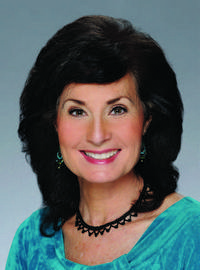 International views
April 3, 2012
A rain shower kept conditions cool for Eileen Lee near West Lake, Hangzhou's best known attraction.
Remember the classic movie Casablanca? It played through my mind several times last month in China as I became fast friends with Eileen Keithly Lee. And our experience is a good example of what can happen when conditions are right for mutually beneficial success.
Eileen, president and managing director of Pittsburgh-based US Trading Solutions, was also a speaker at the fifth annual Outdoor Lifestyle Hangzhou. While my speech shared Casual Living research data on the size of the American outdoor furniture market and the importance of China as our primary supplier, Eileen focused on growing global partnerships.
We met just before the opening banquet. Within moments, another attendee asked whether Eileen and I had known each other long and if we were from the same place. I explained we had just met and told him that I live in North Carolina and she lives in South Carolina. Most Americans differentiate between North and South, whether it boils down to variations in region, state, city or county. I soon found similar distinctions true between North and South China.
Any differences between Eileen and I quickly faded as we learned more about Chinese businesses, toured factories and survived scary high-speed van rides.
Sharing dinner in Shangri-La restaurant at West Lake with China Chamber of Commerce officers and Lu Jinmin, general manager of Luyuan Linhai Green Source Arts & Crafts, and her son Jin Xin. Ms. Lu and Eileen Lee, center, became close friends at an earlier trade show although neither speaks the other's language.
As she spoke during the trade show, Eileen described how to build successful collaborative relationships. The first challenge is overcoming fear. My good friend Margaret Chang, COO of Treasure Garden, was brave enough to serve as one of two volunteers Eileen blindfolded and asked to reach into a moving bag. Margaret yanked out a furry object and threw it into the air. The point of this demonstration was to push past fears of the unknown and work toward understanding differences and recognizing similarities.
Eileen advised the international audience, made up mostly of Chinese but also of European, Middle Eastern and Australian buyers, that they have to get to know the way their customers do business. For example, American buyers tend to be transitionally oriented while Chinese tend to be relationship driven.
Building trust and confidence as you target a good-fit buyer or supplier requires time, patience and listening. Those factors go beyond language and cultural obstacles. Merchandising effectively is another requirement. Being able to tell your story from the point of view of the other person is a key factor in building a successful business relationship, she told the audience.
In short time, Eileen and I forgot we hailed from different Southern states, focused on our similarities in the home furnishings industry and felt as close as sisters. I'm looking forward to hosting her at my home this month while we attend the High Point Market. When school is out in June, my 16-year-old son and I are invited to visit Eileen and her 15-year-old son at their home. I can already imagine those teen-age boys scoping out the girls and hanging out at the beach.
Some might call this personal connection a win-win while others may describe it as a collaborative relationship that propels success. Or, as the famous line from Casablanca says, "it's the start of a beautiful friendship."