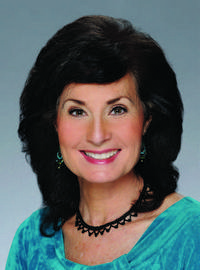 Outdoor designs flourish
May 6, 2011
As we draw closer to this month's HD Expo in Las Vegas and ICFF in New York, I'm not the only one with outdoor designs on my mind.
It started early last month at the High Point Market when I moderated a panel of interior designers, who shared their experiences and expertise in designing outdoor spaces. Margi Kyle, last year's Interior Design Society national president, urged other designers to help their clients to create an outdoor retreat area that incorporates a homeowner's lifestyle and personality.
Current IDS President Domnick Minella added his perspectives, gleaned from years of helping clients find the right furnishings for backyard designs in Michigan and Florida, and Triangle IDS President Loretta Bell shared her outdoor design experiences, gained in California and North Carolina.
After hearing their varied perspectives, the memory of my elderly Aunt Jewell's secret garden played across my mind. From her retirement center apartment, she still longs for that shady nook behind her lifelong home where she once nurtured greenery and small flowering plants. Her nearly hidden garden was in complete contrast to the showy flower and vegetable gardens my grandmother created during her life to welcome visitors and share flora and veggies freely.
The concept of demonstrating personal tastes through outdoor areas was still fresh in my mind later while I walked my dog and paid closer attention to my neighbors' yards. One neighbor has a formal, English style backyard with a brick pathway and steps leading to a straight-backed bench set beneath the branches of a shade tree. Another neighbor planted colorful flowers in her quiet natural area, centered by a Zen statue. A younger neighbor actively tends his fenced-in vegetable garden beside a grassy area set up for horseshoe games with his sons. A pond stocked with fish shares space with birdhouses, birdbaths and lush plants to attract feathered friends (and tempt our cats) in the front yard across the street while an outdoor dining set and firepit are used for entertaining in their backyard. Our own yard holds a more than 50-year-old magnolia, other old hardwood trees, azaleas and hibiscus bushes that return each summer. Our in-ground pool soon will be at the center of our summer home entertainment.
All of those various landscapes appear within a short walk of my home. Those of you who will travel with us this month to Las Vegas can expect to see Southwestern lifestyles plus a multitude of new products for residential lawns and gardens as well as outdoor offerings for hotels, restaurants, senior centers and other contract uses.
In the wake of what is being called The Great Recession, business and personal travel have begun to regain their footings. Postponed projects have been put on track again and contract specifiers as well as designers are paying attention to refurbishing weather-worn outdoor areas.
The quickly escalating price of gasoline could prolong the staycation trend for homeowners and make them more likely to notice that their outdoor furnishings need replacement. Some industry observers expect the pent-up demand from the cold winter, combined with cooler weather in March and parts of April, to set the stage for strong sales of outdoor furnishings.
If we combine those factors with conventional wisdom about the harshest fall and winter seasons leading to the most bountiful spring and summer days, we will all long for an outdoor retreat with a spot of shade that reflects individual personalities, lifestyles and keeps design at top-of-mind.