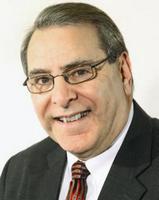 Sharing the value of good ideas
January 3, 2011
It has been said that if you attend a conference and come away with even one good idea, you got your money's worth.
Having flipped through my notebook since returning from Furniture/Today's Leadership Conference, last month, I believe I not only got my money's worth, I also came back with a list of observations, advice and direction so sound I could take it to the bank.
What follows is a sampling of some of the good stuff I jotted down:
For example, our keynote speaker, Robert Stevenson, advised us to, "Always and I mean always, ask 'what if'?" To underscore that point, Stevenson showed us a slide of a huge building that soon after completion, fell on its side.
Robinson told the 270 industry leaders at our event that after completing the multi-story building, the workers excavated dirt from one side of it to allow for an underground garage. Nobody bothered to ask "What if" heavy rains came and undermined the foundations?
You guessed it: The rains came and the building fell.
Carina Diamond, a wealth manager with SS&G Wealth Management, shared how the recession is permanently affecting consumers' spending habits. As one example she noted that shoppers are choosing to pay with cash instead of using credit cards and a means of avoiding additional debt.
We also heard from a number of highly successful retailers, but the speaker you probably would have paid the most attention to was a manufacturer, Agio's Bob Gaylord, who talked about the vitality and opportunity offered from the casual/outdoor segment.
Speaking to a room full of key retailers, manufacturers and suppliers, Gaylord explained the incredible transformation the category has made over the years, a transformation that believe it or not, many retailers are still not aware of.
Gaylord explained how the category, once characterized by simple picnic tables and folding chairs, has morphed into today's broad mix of stylish cast aluminum dining sets, deep-seated sofas and scores of stylish chairs featuring frames running the gamut from natural to synthetic materials.
He also explained that as the distinction between outdoor and indoor blurs, so does the seasonality of the category. And while Gaylord was adamant about the opportunities the category affords retailers of all types, he warned that in order to be successful, retailers can't just toe-tip.
"You need to implement a three-year plan and you need to do it right and commit to the category. Don't just sell a few sets ... that's a recipe for disaster," he warned.
After the session, Gaylord was flanked by a number of well-known retailers who obviously felt that his message had more than just one good idea.

Ray Allegrezza, editor in chief of Furniture/Today and editorial director of Casual Living, can be reached at rallegrezza@furnituretoday.com.