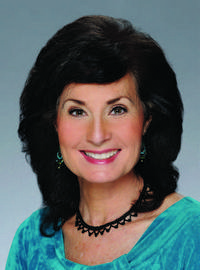 Hope for tomorrow
May 21, 2010
As I watched our new neighbor start a backyard garden, I was reminded of a saying you also may have heard: Gardening shows you believe in tomorrow. Why else would gardeners make the effort to till the soil, plant seeds, tend sprouts, add water and clear out weeds?
The same forward thinking was true as my husband and son uncovered our pool to get the water clean and ready for the swimming season. In our part of the country, the water isn't usually warm enough for me to want to dive in until Memorial Day or after, but the effort to achieve crystal clear water must begin much earlier.
Planning and preparing to enjoy tomorrow's outdoor living requires a combination of hope and action. That's despite odd weather patterns, scary natural disasters and the forecast of a more active than normal hurricane season. The hurricane forecaster I saw tempered his report with the slogan: Don't get scared, get prepared.
Again, I was reminded of the philosophy a California outdoor furniture, pool and spa retailer shared with me several years ago: "Action is the antidote for despair." His words were uttered long before the recession began, driving consumers into their foxholes and hurting his fellow retailers in Southern California along with other less sunny parts of the nation.
In the hard hit Detroit area, retailer Gerald Visel took action and made changes at his two pool and patio stores to adapt to the down economy while some of his competitors went under. Visel said he's noticing customers return to buy what they want, compared with last year when shoppers basically talked themselves out of buying. Those paralyzing fears are starting to fade, although recovery is expected to be slow.
When you think of the time it takes for my neighbor's seeds to grow into sprouts and eventually become food for the family, it also could be described as a slow process. That didn't stop him from wanting a garden or working to create it.
In the same way, fears of a slow economic recovery should not stop retail buyers from ordering the latest products for garden and outdoor living in Las Vegas this month at trade shows serving widely different parts of the market, the National Hardware Show and the Hospitality Design Expo.
If anyone is looking for numbers to base their hopes upon, consider this: Nearly 95% of residential landscape architects said they see outdoor living spaces, such as outdoor kitchen or entertaining areas, as somewhat or very popular for 2010, according to a new survey by the American Society of Landscape Architects.
Are you prepared? It's time to take action and show you believe in tomorrow.