New outdoor heating & fire pit products
News and new introductions of hearth, outdoor heating, fire pits and chiminea products for the outdoor living room.
For outdoor furniture and accessory manufacturers, retailers and buyers, the September International Casual Furniture & Accessories Market is the place to see and learn about new products and trends for 2014. From modular deep seating collections and functional grilling stations to high-performance dining sets and aesthetically pleasing furniture accents, this year's Casual Market is poised to have the most prolific mix of innovative products to date. More

Design Excellence winners named

The International Casual Furnishings Association and Merchandise Mart Properties Inc. have announced the 11 winners of the 2013 Design Excellence Awards. More

Napoleon forecasts 2014 fireplace trends

CRITTENDEN, Ky. - Grills and heating products manufacturer Napoleon says 2014 is heating up to be a very different year for the fireplace. More

Lexington Home Brands adds two new Tommy Bahama outdoor collections

THOMASVILLE, N.C. - Lexington Home Brands is redefining contemporary outdoor furnishings with the addition of two new collections to its successful Tommy Bahama Outdoor Living brand. More

Agio reports sizzling fire pit sales

VIRGINIA BEACH, Va. - Outdoor furniture manufacturer Agio is experiencing strong fire pit chat group sales heading into next month's International Casual Furniture & Accessories Market, the company reports. More

Napoleon introduces Galaxy outdoor fireplace

CRITTENDEN, Ky. - Grill and heating products manufacturer Napoleon has unveiled the Galaxy, an outdoor gas fireplace with a linear, modern design, the company announced. More

Pride Family Brands introduces new fire table design for 2014

FT. LAUDERDALE, Fla. - Cast aluminum outdoor furniture manufacturer Pride Family Brands announced the introduction of the newest design in its collection of luxury fire tables. More

R.H. Peterson launches new website for Fire Magic grills

CITY OF INDUSTRY, Calif. - Gas logs, grills and outdoor fire features manufacturer R.H. Peterson Co. launched a new, expanded website for Fire Magic grills at www.firemagicgrills.com. More

Sunny Designs offering new outdoor collections in Vegas

LAS VEGAS - Case goods manufacturer and importer Sunny Designs believes it has found a niche when it comes to the outdoor furniture category. More

Many casual furniture and accessories manufacturers and retailers across the country are reporting a strong start to 2013. With the economy slowly but steadily improving, the demand for outdoor furnishings is strengthening as consumers invest in creating high-quality outdoor spaces for their homes. More

In this recurring series, Casual Living interviews the industry's rising stars, notable executives under age 40 who already are making an impact on the outdoor business. This month, Mike Gaylord, national sales manager at Agio, and Asha Chaudhary, president of Jaipur, share their insights about the evolution of the outdoor industry. More
Detail Oriented: Fire Pits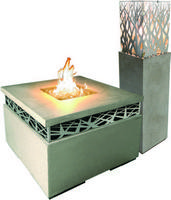 Distinctive swirls, patterns and curves make these fire pits intriguing decorative options for outdoor spaces
See the latest product shots.
More