Weather forecasts - Temperature, Precipitation - Outdoor furniture sales
Monthly forecast of temperature & precipitation trends affecting outdoor furniture sales.
Color tops the list of the most important factors casual retailers discuss with consumers, according to Casual Living's exclusive 2016 Fabric Survey. More

After a long and brutal winter, parts of the northern tier of the United States finally saw breaks of spring-like weather in April 2014. Meanwhile, the West Coast was feeling more like summer early in the month as temperatures neared the century mark in the Southwest desert region. More

Spring to Arrive Mid-month For Most of the United States

Last year, a majority of the nation trended colder than normal during March. The exception was in the West, where temperatures trended above normal. Heavy rain early in March caused flooding and landslides in the Northwest, while severe storms late in the month spawned tornadoes near St. Louis and Dallas. More

Product of the Day: Brown Jordan

Brown Jordan is expanding into the pet market with the introduction of its Brown Jordan Outdoor Dog Bed collection. The beds are available in three sizes and seven outdoor fabrics, shown here in medium with Madeline Stripes fabric. More

At the Dec. 8-10 installment of the Showtime fabric fair, many suppliers of outdoor fabrics focused not only on marketing their textiles for outdoor use, but as indoor performance fabrics. More

Sunbrella wins Interior Design Best of Year award

The Sunbrella Icon collection, designed and produced by Glen Raven Custom Fabrics, was named a Best of Year 2014 winner for the Textiles: Outdoor category by Interior Design magazine last week during an annual awards ceremony. More

Phifer receives Melanoma International Foundation's seal of approval

The Melanoma International Foundation has awarded its seal of approval to more than 30 of Phifer Incorporated's interior and exterior sun control fabrics. More

Joe Ruggiero goes 'Into the Garden' with new Sunbrella collection

Designer Joe Ruggiero is unveiling a new collection for Sunbrella during the Dec. 7-10 Showtime fabric fair in High Point, N.C. More

Richard Frinier debuts travel-inspired collection for Sunbrella

Richard Frinier drew inspiration for his latest collection of Sunbrella fabrics from an extended stay in Morocco. More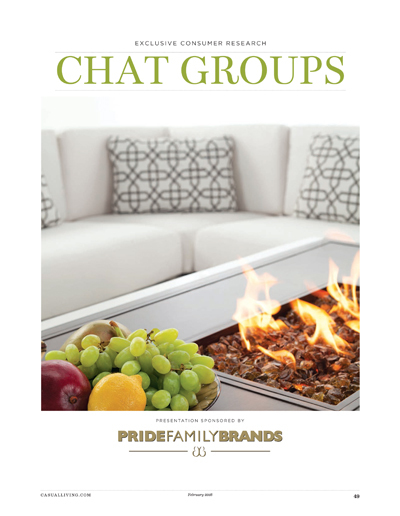 Total retail sales for chat groups reached an estimated $1.09 billion in 2015, according to the 2015 Casual Living Universe Study. That's a 6.4% increase over 2014's sales of $1.02 billion. Read the full report.
HPB Expo

March 17, 2016 - March 19, 2016

Ernest N. Morial Convention Center

New Orleans, Louisiana, US

High Point Market

April 16, 2016 - April 21, 2016

Downtown High Point

High Point, North Carolina, US

National Hardware Show

May 3, 2016 - May 5, 2016

Las Vegas Convention Center

Las Vegas, Nevada, US
More