Outdoor Accessories - Garden Decor
Products to complete the outdoor living room including garden decor, table top, weather proof art, accent furniture and more.
Sleek, simple and versatile, the Gallery tray by Zak Designs is now available in a new clear design. More

Chip Callaway is a man for all seasons. The North Carolina-based gardening guru's principles are based on the land and its history. He knows the earth and what grows from it - when to plant, when to reap, when to sow. More

Whether your outdoor encampment is bivouac or beachfront, today's campy casual looks are sure to light your fire. From refined rustic to surf shack chic all the way to nautical natural - the camp craze is backyard-packed with possibilities. More

There's a neo-noir, futuristic movement afoot in today's outdoor styling. It incorporates industrial elements, has minimalist influences, roots in Asian culture and gives a firm nod to science fiction. The year 2013: An Outdoor Space Odyssey emerges. More

Today's outdoor accessories and furniture aren't the plain janes of days gone by. Complementary casual has embraced texture, pattern and indoor-look textiles like never before. More

The growing importance of the outdoor room as a consumer lifestyle benefits both the homeowner and the casual furnishings industry, key industry players agree. More

It's harvest time for casual furniture and this year's crops are yielding a bevy of beauties. From farmer's market to Casual Market, take a look at what's on the menu this season. More

The 2012 Games in London produced countless Olympic moments that will be remembered for some time to come. Today's outdoor style has taken a cue from the event's inspired athletes, ceremonies and location. More

Tervis introduces Hello Kitty, Harley Davidson drinkware collections

Insulated drinkware manufacturer Tervis has teamed up with Sanrio's Hello Kitty brand for a new collection featuring the global pop icon. The new line was introduced in July at the Atlanta International Gift & Home Furnishings Market. More

Designed by Pamela Crawford and produced by Kinsman Company, Living Walls turn lush garden greenery into outdoor wall decor. More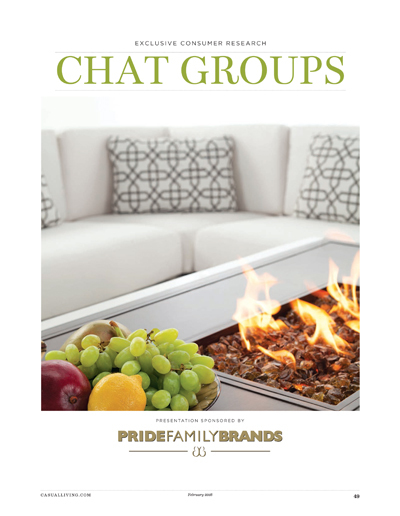 Total retail sales for chat groups reached an estimated $1.09 billion in 2015, according to the 2015 Casual Living Universe Study. That's a 6.4% increase over 2014's sales of $1.02 billion. Read the full report.
HD Expo

May 4, 2016 - May 6, 2016

Mandalay Bay Convention Center

Las Vegas, Nevada, US

National Hardware Show

May 4, 2016 - May 6, 2016

Las Vegas Convention Center

Las Vegas, Nevada, US

Canadian Furniture Show/Salon canadien du meuble

May 28, 2016 - May 30, 2016

International Center

Mississauga, ON, US
More