Outdoor Style - Trends in outdoor furniture & accessories
New product introductions for outdoor living covering dining sets, outdoor lamps & lighting, outdoor rugs, barbecues, grills and more.
Promote positive consumer interactions

It's no secret that the vast majority of consumers, 70% to be exact, begin their shopping excursions online, gathering information, comparing an item's features and benefits and, of course, comparing pricing. And while they will look to you and your website for much of that information, studies indicate that they will look even harder for customer reviews from shoppers who may have already purchased the goods they are looking for. And even more interesting is that shoppers say that they often trust product reviews from strangers more than they will trust what you tell them on your websites ... More

ASLA survey highlights 2014 outdoor design trends

Consumer demand remains strong for attractively designed residential landscapes that are perfect for entertaining and relaxing, according to the 2014 Residential Landscape Architecture Trends Survey conducted by the American Society of Landscape Architects. More

Pantone has anointed its color of the year as Radiant Orchid, but soft pastels of other variations are evident. Natural tones continue to be popular as well as island-inspired designs and tempting textures. More

Influences from the past permeated outdoor fabric offerings at the winter edition of Showtime, albeit with a decidedly modern touch. The semiannual fabric fair, held Dec. 8-11 in High Point, N.C., was awash in color, a trend that extended to its more traditional designs. More

I Hope 2013 was A year of Learning, Experimenting, Growing And profitability. As I reflect on this past year, 2013 was a year filled with lessons. Here's a few of my takeaways, for what they are worth: More

Back In 1995, light years ago from A technology standpoint, I worked for a sister publication of Furniture/ Today and Casual Living. It was called TWICE - This Week In Consumer Electronics. We hustled like newshounds each day to write our front page stories and fill the weekly tabloid paper with the latest news. At some point, an editor named Catherine started trolling the aisles, sticking her head into our cubicles and asking for stories for the publication's fledgling website. No one paid... More

Color, design and market trends

Outdoor Building Products And Décor Have seen continued growth over the past five years despite less than positive economic conditions. Color tracking over the same period has indicated consolidation of product portfolios until 2012 when there was a shift to increasing the number of new product introductions. More

Forget about what Kermit said. The already substantial list of companies continues to grow as more manufacturers go green - without sacrificing any style or longevity. Making furniture from repurposed or reclaimed materials is here to stay. More

While only 4% of U.S. consumers currently own an outdoor kitchen, nearly half of those with an outdoor room would like to add an outdoor kitchen to their space. That's one of the findings from the nearly 5,000 U.S. consumers answering Casual Living and HGTV's exclusive Consumer Views Survey. More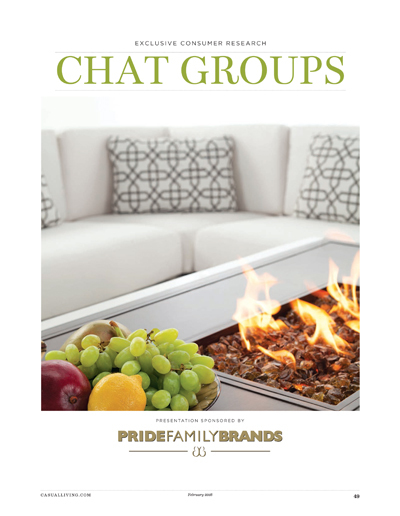 Total retail sales for chat groups reached an estimated $1.09 billion in 2015, according to the 2015 Casual Living Universe Study. That's a 6.4% increase over 2014's sales of $1.02 billion. Read the full report.
HPB Expo

March 17, 2016 - March 19, 2016

Ernest N. Morial Convention Center

New Orleans, Louisiana, US

High Point Market

April 16, 2016 - April 21, 2016

Downtown High Point

High Point, North Carolina, US

National Hardware Show

May 3, 2016 - May 5, 2016

Las Vegas Convention Center

Las Vegas, Nevada, US
More