Outdoor Style - Trends in outdoor furniture & accessories
New product introductions for outdoor living covering dining sets, outdoor lamps & lighting, outdoor rugs, barbecues, grills and more.
Design Excellence Awards - 2010 Entries

More than 90 entries in the 2010 Design Excellence Awards competition demonstrate the confidence of casual furnishings manufacturers, who were willing to invest in research and product development during the prolonged economic downturn. More

SIGNS OF economic recovery started appearing about the same time we began hearing casual furniture retail inventories were clearing out long before the selling season ended More

TIFF 2011 'Finding Green Piece'

Following the great success of TIFF 2010, which attracts about 35,000 local and international visitors to truly establish itself as Asia's leading furniture producing and exporting hub from potential importers from all over the world, The Department of Export Promotion under the Ministry of Commerce of Thailand. More

From Twin-Star International, the ClassicFlame Wall Hanging Electric Fireplace offers realistic flame effects with or without heat. Plaza Suites 1-500 More

Building on his retail and design experience selling beach chic home furnishings, Joe O'Brien has joined forces with Acacia Home & Garden to bring his laid back Cabana Joe's brand outdoors. The Coast of Kenya, home to safaris and primitive beaches including Nyali and Zanzibar, was an inspiration for his first two collections to be shown next month at the Casual Market. More

Alfresco Home expands offices, showroom and distribution center

To help meet the growing demand for its outdoor living collections of casual furniture and accessories, Alfresco Home has moved to a new office and showroom in King of Prussia, Pa., and also has increased its distribution facility from 15,000 square feet to 50,000 square feet. "Servicing our customer's needs is always our top priority," Alfresco Home President Joseph Cilio said. More

Hitting the highlights of a Casual Show preview

The casual furniture buying season got a jumpstart during the July 10–13 premarket in Chicago's Merchandise Mart. It was difficult to tell whether attendance was up or down, but permanent showrooms were at times as busy as during the September market and the temporary floor was busier than last year, which was the first premarket sanctioned by the Summer & Casual Furniture Manufacture... More
Prev
Next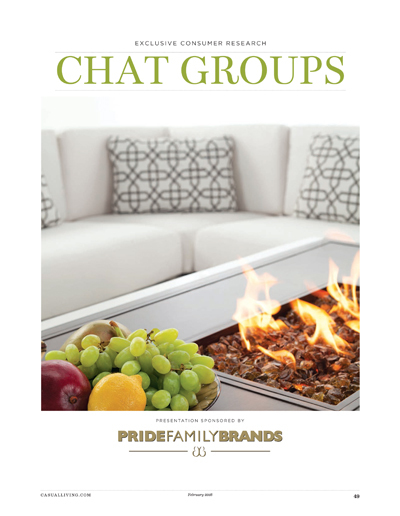 Total retail sales for chat groups reached an estimated $1.09 billion in 2015, according to the 2015 Casual Living Universe Study. That's a 6.4% increase over 2014's sales of $1.02 billion. Read the full report.
Spoga+Gafa

September 4, 2016 - September 6, 2016

Koelnesse

Cologne, DE

Glee

September 12, 2016 - September 14, 2016

National Exhibition Center

Birmingham, England, GB

Casual Market Chicago

September 20, 2016 - September 23, 2016

Merchandise Mart

Chicago, IL, US
More