Outdoor Style - Trends in outdoor furniture & accessories
New product introductions for outdoor living covering dining sets, outdoor lamps & lighting, outdoor rugs, barbecues, grills and more.
Pantone has anointed its color of the year as Radiant Orchid, but soft pastels of other variations are evident. Natural tones continue to be popular as well as island-inspired designs and tempting textures. More

Influences from the past permeated outdoor fabric offerings at the winter edition of Showtime, albeit with a decidedly modern touch. The semiannual fabric fair, held Dec. 8-11 in High Point, N.C., was awash in color, a trend that extended to its more traditional designs. More

I Hope 2013 was A year of Learning, Experimenting, Growing And profitability. As I reflect on this past year, 2013 was a year filled with lessons. Here's a few of my takeaways, for what they are worth: More

Back In 1995, light years ago from A technology standpoint, I worked for a sister publication of Furniture/ Today and Casual Living. It was called TWICE - This Week In Consumer Electronics. We hustled like newshounds each day to write our front page stories and fill the weekly tabloid paper with the latest news. At some point, an editor named Catherine started trolling the aisles, sticking her head into our cubicles and asking for stories for the publication's fledgling website. No one paid... More

Color, design and market trends

Outdoor Building Products And Décor Have seen continued growth over the past five years despite less than positive economic conditions. Color tracking over the same period has indicated consolidation of product portfolios until 2012 when there was a shift to increasing the number of new product introductions. More

Forget about what Kermit said. The already substantial list of companies continues to grow as more manufacturers go green - without sacrificing any style or longevity. Making furniture from repurposed or reclaimed materials is here to stay. More

While only 4% of U.S. consumers currently own an outdoor kitchen, nearly half of those with an outdoor room would like to add an outdoor kitchen to their space. That's one of the findings from the nearly 5,000 U.S. consumers answering Casual Living and HGTV's exclusive Consumer Views Survey. More

"The category is exploding," said Agio's VP Doug Peppler. The company now has 26 SKUs in its line. From their humble beginnings, fire pits have literally become the center of attention with shapes, finishes and sizes for all occasions. A late summer staple, the fire pit is especially popular now in chat tables, a variety of bar heights and styles that convert with a cover to a coffee table option. More

Homeowners are Spending more To transform their outdoor spaces into another room of the house, expanding the overall foot print of the home. More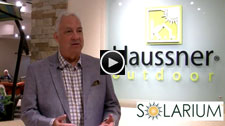 Join Senior Editor Jennifer Bringle as she interviews exhibitors and attendees about trends and issues at the Casual Market Chicago. (Videos are sponsored by Richloom.)
See the video!
Sponsored by Richloom.
Vietnam International Woodworking Industry Fair

October 14, 2015 - October 17, 2015

Saigon Exhibition and Convention Center

Ho Chi Minh City, VN

High Point Market

October 17, 2015 - October 22, 2015

Downtown High Point

High Point, NC, US

International Pool | Spa | Patio Expo

November 10, 2015 - November 12, 2015

Mandalay Bay Convention Center

Las Vegas, NV, US
More