Outdoor Fabric introductions, trends & news
News, color trends and introductions in outdoor, weather resistant fabrics.
Phifer to introduce new indoor/outdoor collections at Showtime

Expanded GeoBella designs among intros More

Phifer unveils new booth at Showtime

New Phifer Showtime booth to offer open-floor concept, new colors and fabrics. More

Affluent consumers shift spending

Marketing helps retail specialists benefit My first impression was the healthy amount of product introductions presented at the ICFA Preview Show. There were line extensions in nearly every showroom, but many manufacturers took another step ahead by unveiling full collections in their Chicago showrooms. The high-end part of the outdoor furnishings market is definitely being addressed with new mix-and-match styles in a variety of materials and colors. That's a good thing, given the current conditions of the marketplace. Mass merchants started clearance sales of their outdoor furnishings last month while specialty retailers were deep into their sales season. The ... More

Joe Ruggiero introduces "Exotic Lands" Sunbrella fabrics collection

The collection will debut at Showtime. More

Onyx Age introduces new collection

The Passages collection by Seema Krish for Onyx Age will debut at Showtime. More

After a long and brutal winter, parts of the northern tier of the United States finally saw breaks of spring-like weather in April 2014. Meanwhile, the West Coast was feeling more like summer early in the month as temperatures neared the century mark in the Southwest desert region. More

Spring to Arrive Mid-month For Most of the United States

Last year, a majority of the nation trended colder than normal during March. The exception was in the West, where temperatures trended above normal. Heavy rain early in March caused flooding and landslides in the Northwest, while severe storms late in the month spawned tornadoes near St. Louis and Dallas. More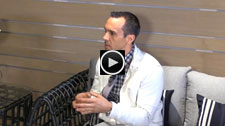 Join Editorial Director Vicky Jarrett as she interviews exhibitors and attendees about trends and issues at the High Point Market. See the videos!
International Textile Market Association Showtime

December 6, 2015 - December 9, 2015

Various Market Buildings

High Point, NC, US

Atlanta International Gift & Home Furnishings Market

January 12, 2016 - January 19, 2016

AmericasMart

Atlanta, GA, US

Atlanta International Area Rug Market

January 13, 2016 - January 16, 2016

AmericasMart

Atlanta, GA, US
More