Outdoor Fabric introductions, trends & news
News, color trends and introductions in outdoor, weather resistant fabrics.
Color tops the list of the most important factors casual retailers discuss with consumers, according to Casual Living's exclusive 2016 Fabric Survey. More

Anytime I get a chance to talk with designers – be they fabric designers, furniture designers, interior designers or landscape designers – I can't help but try to draw out where they find their inspiration. Perhaps I want to dig into that idea simply because it's a question with such a nebulous answer, for design ideas, they will tell you, come from anywhere and everywhere. So, at the recent Showtime event, one of my favorite questions to ask fabric folks was along those same lines: Where do color ideas come from? True to past experience, the answers indicated inspiration can ... More

Phifer to introduce new indoor/outdoor collections at Showtime

Expanded GeoBella designs among intros More

Phifer unveils new booth at Showtime

New Phifer Showtime booth to offer open-floor concept, new colors and fabrics. More

Affluent consumers shift spending

Marketing helps retail specialists benefit My first impression was the healthy amount of product introductions presented at the ICFA Preview Show. There were line extensions in nearly every showroom, but many manufacturers took another step ahead by unveiling full collections in their Chicago showrooms. The high-end part of the outdoor furnishings market is definitely being addressed with new mix-and-match styles in a variety of materials and colors. That's a good thing, given the current conditions of the marketplace. Mass merchants started clearance sales of their outdoor furnishings last month while specialty retailers were deep into their sales season. The ... More

Joe Ruggiero introduces "Exotic Lands" Sunbrella fabrics collection

The collection will debut at Showtime. More

Onyx Age introduces new collection

The Passages collection by Seema Krish for Onyx Age will debut at Showtime. More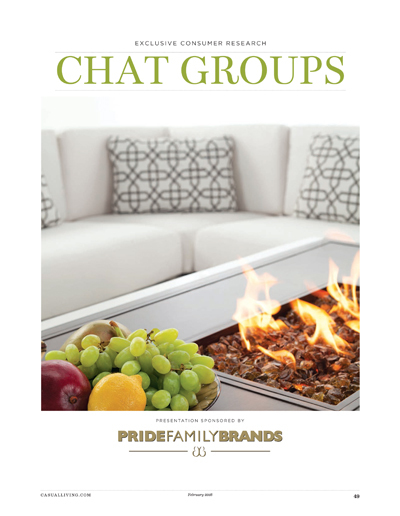 Total retail sales for chat groups reached an estimated $1.09 billion in 2015, according to the 2015 Casual Living Universe Study. That's a 6.4% increase over 2014's sales of $1.02 billion. Read the full report.
HPB Expo

March 17, 2016 - March 19, 2016

Ernest N. Morial Convention Center

New Orleans, Louisiana, US

High Point Market

April 16, 2016 - April 21, 2016

Downtown High Point

High Point, North Carolina, US

National Hardware Show

May 3, 2016 - May 5, 2016

Las Vegas Convention Center

Las Vegas, Nevada, US
More