Garden Decor - Guide to selling outdoor accessories
News and features covering garden accents and outdoor accessories, retail business news, garden industry news and trade show reviews.
RH Peterson Co. expands gas fireplace offerings with new gas insert

CITY OF INDUSTRY, Calif. -- Robert H. Peterson is expanding its line of premium fireplace products with the introduction of the Real Fyre Direct Vent Gas Insert. More

Peak Season's new products now available to authorized dealers

IRONDALE, Ala. -- Outdoor furniture and accessories manufacturer Peak Season, Inc. announced its newest product line for 2013 is now available to authorized dealers. More

Palm Springs Rattan to feature outdoor, indoor collections at High Point Market

LARGO, Fla. -- Casual Furnishings manufacturer Palm Springs Rattan and Garden Classics announced the company will showcase several of its latest introductions at the High Point Market, Oct. 13-18. More

Chic mood lighting with an adjustable remote control spices up the Berlin Lights See Thru outdoor fireplace from FMI Products. More

SolaRay sequin panels by Radiant Manufacturing add some sparkle to the outdoor room in a variety of colorways, two standard sizes and three shapes. More

Jaxx Bean Bags to unveil rebranded image at High Point

Jaxx Bean Bags, an Atlanta-based manufacturer of eco-friendly bean bags, announced plans to present a rebranded image at the High Point Market in October, alongside the launch of its special edition denim line of products and new website, jaxxbeanbags.com. More

Sleek, simple and versatile, the Gallery tray by Zak Designs is now available in a new clear design. More

Chip Callaway is a man for all seasons. The North Carolina-based gardening guru's principles are based on the land and its history. He knows the earth and what grows from it - when to plant, when to reap, when to sow. More

Whether your outdoor encampment is bivouac or beachfront, today's campy casual looks are sure to light your fire. From refined rustic to surf shack chic all the way to nautical natural - the camp craze is backyard-packed with possibilities. More

There's a neo-noir, futuristic movement afoot in today's outdoor styling. It incorporates industrial elements, has minimalist influences, roots in Asian culture and gives a firm nod to science fiction. The year 2013: An Outdoor Space Odyssey emerges. More
Prev
Next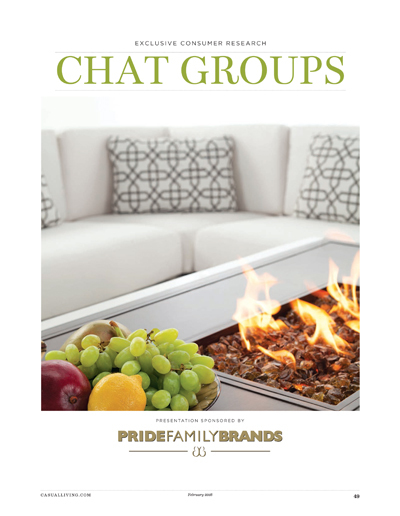 Total retail sales for chat groups reached an estimated $1.09 billion in 2015, according to the 2015 Casual Living Universe Study. That's a 6.4% increase over 2014's sales of $1.02 billion. Read the full report.
Spoga+Gafa

September 4, 2016 - September 6, 2016

Koelnesse

Cologne, DE

Glee

September 12, 2016 - September 14, 2016

National Exhibition Center

Birmingham, England, GB

Casual Market Chicago

September 20, 2016 - September 23, 2016

Merchandise Mart

Chicago, IL, US
More