Product of the Day: R.H. Peterson


The new Fire Bowls by American Fyre Designs are available in both deep and low profile options and in several sizes from 32- to 48-inch. Complementing pedestals, available in two sizes, add height and elegance. More ...
Offenbachers CEO says Casual Market Chicago place to shop

  More Videos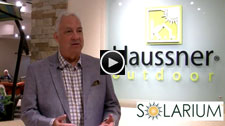 Join Senior Editor Jennifer Bringle as she interviews exhibitors and attendees about trends and issues at the Casual Market Chicago. (Videos are sponsored by Richloom.)
See the video!
Sponsored by Richloom.
September Digital Edition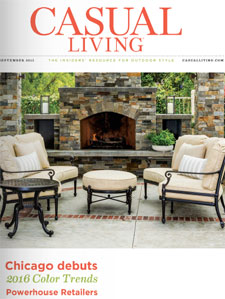 Check out the September digital issue of Casual Living featuring what's coming out at Casual Market Chicago, along with 2016 color trends and our exclusive 2015 Powerhouse Retailers. Enjoy the issue!
Outdoor Focus

Jennifer Bringle

September 21, 2015

In the retail game, business owners often spend a good bit of time keeping an eye on their competition. Whether it's pricing, customer service or product selection, retailers try their best to not only meet, but exceed what their competitor is doing. With that in mind, it was truly remarkable to participate in two events at the recent Casual Market Chicago that had retailers sharing ideas (and frustrations) with their peers, rather than seeing them as the competition. During the ICFA Roundtables, which were held on Tuesday afternoon before Casual Market Chicago, and the Casual Living/STORIS Retailer Breakfast ...

The Barbecue Lifestyle

Bruce Bjorkman

September 17, 2015

For more than 58 million people, September can't come soon enough. They're crossing off the days on their wall and desk calendars. They're making up lists and menus of what they will need to succeed at one of their favorite annual activities. I'm talking TAILGATING. If you're a grill retailer who rolls the barbecues out of the showroom after Labor Day, you are shortchanging yourself and missing out on the next round of the grill selling cycle. In many parts of the country, the college football season literally kicks off on Labor Day weekend. The ...

Inside Out

Vicky Jarrett

September 14, 2015

It's September, and casual industry manufacturers, suppliers and dealers are eagerly looking forward the industry's biggest event – Casual Market Chicago. It's like anticipating Christmas; it's the time for the new product, new ideas. Introductions and innovations are showing up all over the casual industry. As the countdown continues toward the big show, we've turned the spotlight on this year's ICFA Apollo Award nominees, an impressive group of retailers that have proven themselves to be energetic, enthusiastic and, yes, innovative – characteristics that resonate with their customers. Of course, each September Casual Living reports and tracks ...
View all blogs

More Videos
For a second year, readers were invited to pick their favorites from the contenders for the 15th annual Casual Living Merchandising Awards.
View All Slideshows
The company's newest contemporary home theater group features a raspberry leather cover. USA PREMIUM LEATHER
C-1440, C-1432
Vietnam International Woodworking Industry Fair

October 14, 2015 - October 17, 2015

Saigon Exhibition and Convention Center

Ho Chi Minh City, VN

High Point Market

October 17, 2015 - October 22, 2015

Downtown High Point

High Point, NC, US

International Pool | Spa | Patio Expo

November 10, 2015 - November 12, 2015

Mandalay Bay Convention Center

Las Vegas, NV, US
More